[Real Life Story] How to Increase Your Home's Appraised Value
Just imagine, you put your home on the market and not only does it quickly get multiple offers but some of those are over asking price. That's such a great feeling, right?!
Then comes paperwork, legalities, negotiation, and an appraisal. The process of having your home appraised starts with someone coming to your house to inspect it from top to bottom, inside and out. This is done to assess the actual value of your home and is based on several components including the size of your lot and house, the condition that your house is in, any improvements that you've made along the way, and more. The potential risk here is that your home appraises for significantly less than the offer was for. That could cause the buyer to walk away from the deal if they aren't willing or are unable to finance more than the value of the home.
With what we're seeing in today's market, increasing your home's value may not be as important as increasing your home's appraised value. This blog will have a few practical tips and a real-life story that may help to increase your appraisal value and ensure that the process of selling your home goes as smoothly as possible.
Make Updates That Pay Off
There are a collection of low-cost and high-cost projects that can easily boost the value of your property. It's important to decide where you invest your money upfront because this could be the factor that elevates your home's appraised value. A few kickstarter projects can include replacing your front door, garage door, or lighting fixtures which can be relatively low cost. If you are in the position to include high-value structural improvements a few things to always consider are new windows, flooring, roofing, HVAC, and electrical box upgrades. If you can invest in higher quality flooring options such as tile, hardwoods, or other these are the kind of things an appraiser notices right away. An appraiser will consider the condition, material, and quality of these larger structural elements and for this reason, a big factor of a preferred value is found in the efficiency of newer home materials.
| REAL LIFE RENO STORY |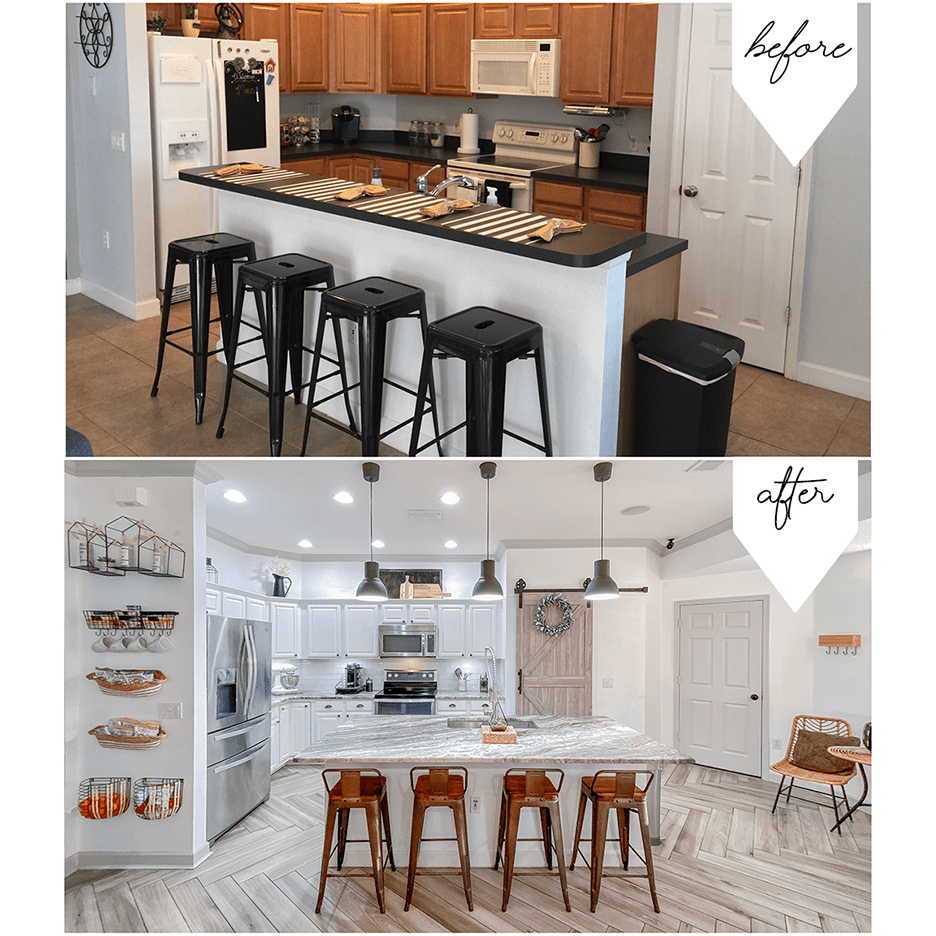 PHOTO COURTESY OF JENNY FOLLOW ON IG @JENNEBEE
"When we bought our home it had 14 paint colors throughout the home. Floors were not cohesive either, there was a combination of outdated tile, laminate, bamboo flooring and gross carpeting that have seen better days. We had a baby that would be crawling soon so we made floors our priority. We went with wood looking tile flooring. It was easy to keep clean while being heavy duty making this the choice for us. Our flooring company was able to accommodate a herringbone design feature in dining our room and kitchen. Kitchen appliances, cabinets, lighting pendants, new countertops, and design features like a pantry barn door and snack feature wall completed the kitchen renovation." - Jenny
Leverage Your Home's Curb Appeal
Since the interior of your home is where you spend most of your time you may not initially consider its exterior, though it is the first thing potential buyers will see. Sprucing up the outside of your house will improve its curb appeal, and consequently its value, without too much work or money. Simply cleaning up your yard and enhancing the landscaping will go a long way to make your home look like new. Planting new greenery, trimming trees and hedges, and mowing the lawn are easy ways to clean up the natural environment around your house. Additionally, a fresh coat of paint on your front door and trim, as well as freshly cleaned windows, can do wonders for your home's exterior appearance. Lastly, and perhaps most importantly, make sure there are no exterior damages on display. Check the siding, roof, and any other areas for broken pieces that need to be cleaned up before getting your house appraised. A clean and aesthetically pleasing exterior will be much more inviting than an old, deteriorating one.
Keep Track Of All Improvements
Even if you're not thinking about selling your home in the moments that you're making home improvements, if the house you're currently in isn't your "forever home" then keeping track of all the upgrades will help you in the long run. Picture this - you put your home on the market and it goes under contract. During the next few weeks you're signing paperwork and preparing to move, but the appraisal is scheduled in just a few days. You then need to go through the house and list all of the improvements that were made and hope that you remember all of them (and the cost associated with them).
Here's another scenario... You've kept detailed records while you've lived in the house, so when the appraiser comes to your house to assess its value you hand them a folder with all of the improvements that you've made to your home over time including receipts so that you're able to accurately account for everything that's been done inside and outside. That sounds much easier, right?
| REAL LIFE RENO STORY |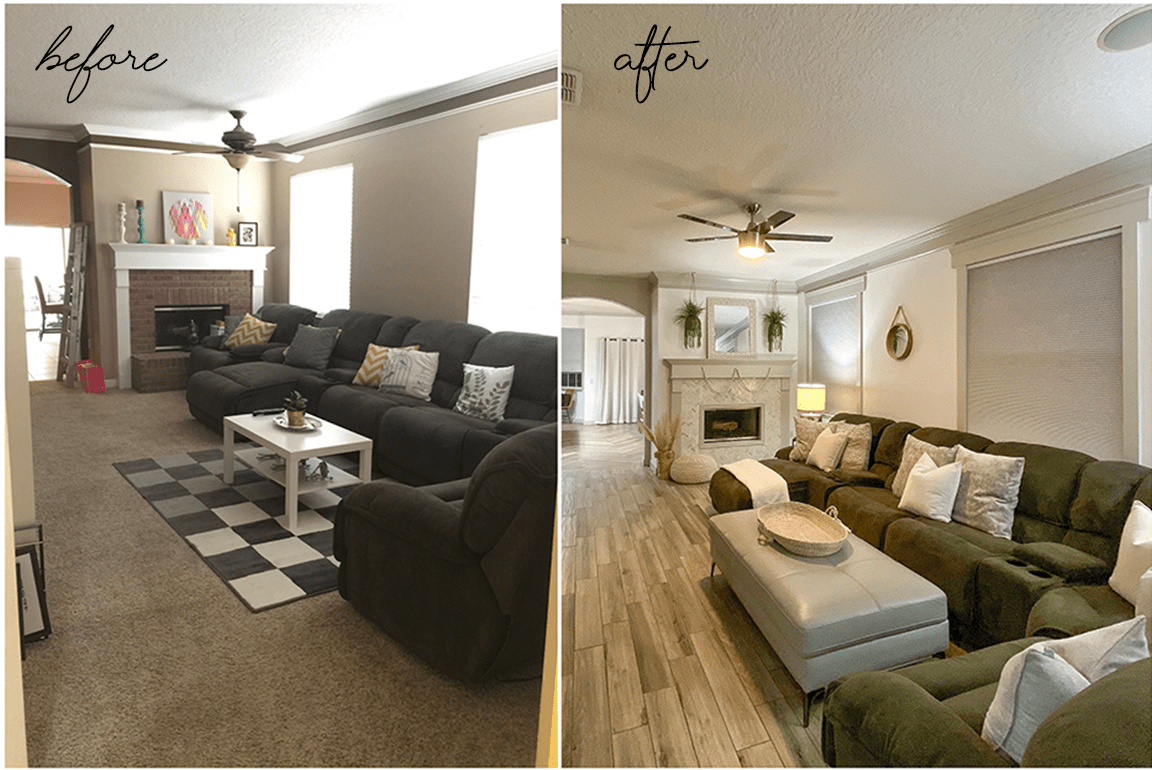 PHOTO COURTESY OF JENNY - FOLLOW ON IG @JENNEBEE
"We've compiled a physical printed list with photos to hand to our appraiser. A space might just look nice and clean when you walk into it, but a lot of love went into it. For example, this space has new flooring, new paint, windows were professionally framed to elevate the look of the room, new blinds throughout the home, and the fireplace was refaced." - Jenny
Review Neighborhood Comparables
Comparables are another way to determine your home's value based on the current market trends. You'll likely hear your agent talking about "comps" which means looking at homes that are listed and recently sold near your house to better understand what your home may sell for.
For example, if your home is updated top to bottom and is ready to get top dollar but that number is high above the comparable sales in your neighborhood it may be difficult to get the appraisal value far above the area trends.
There are a lot of variables that go into comps (just like the appraised value in general) such as lot size, square footage, and age of the house. While this portion is largely out of your control, it's only one piece of the appraisal puzzle, especially in a market like we're in today.
| REAL LIFE RENO STORY |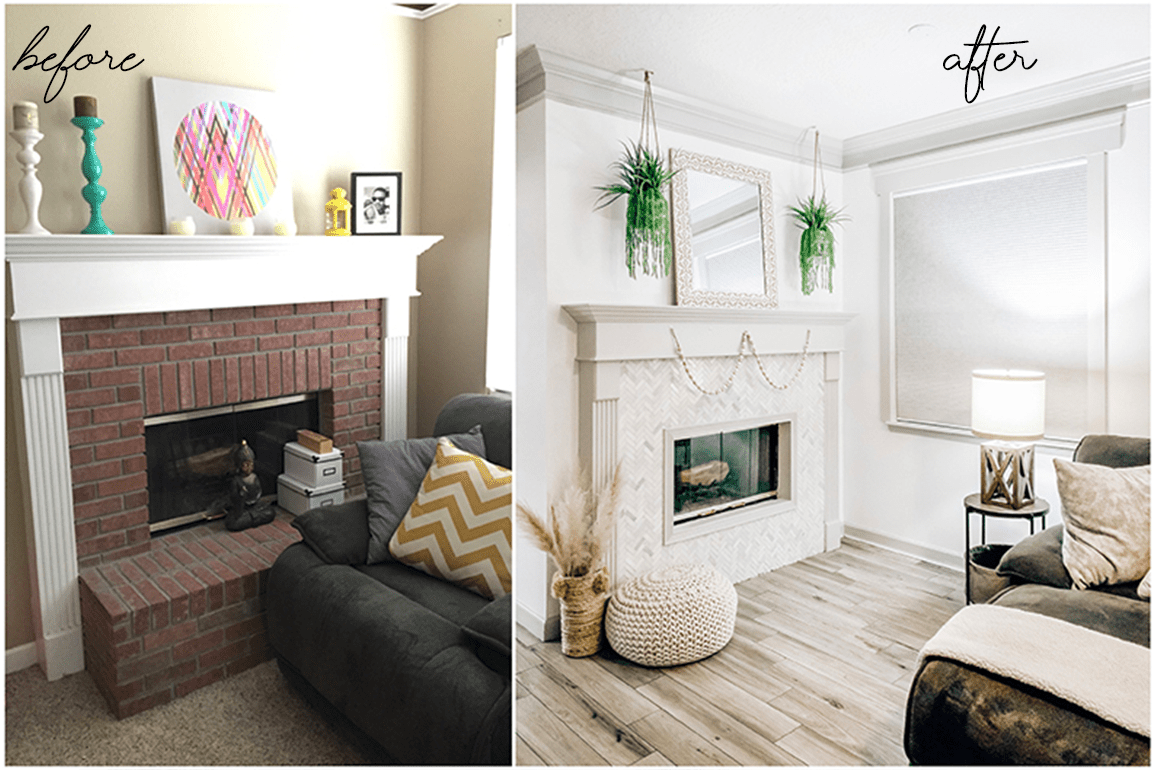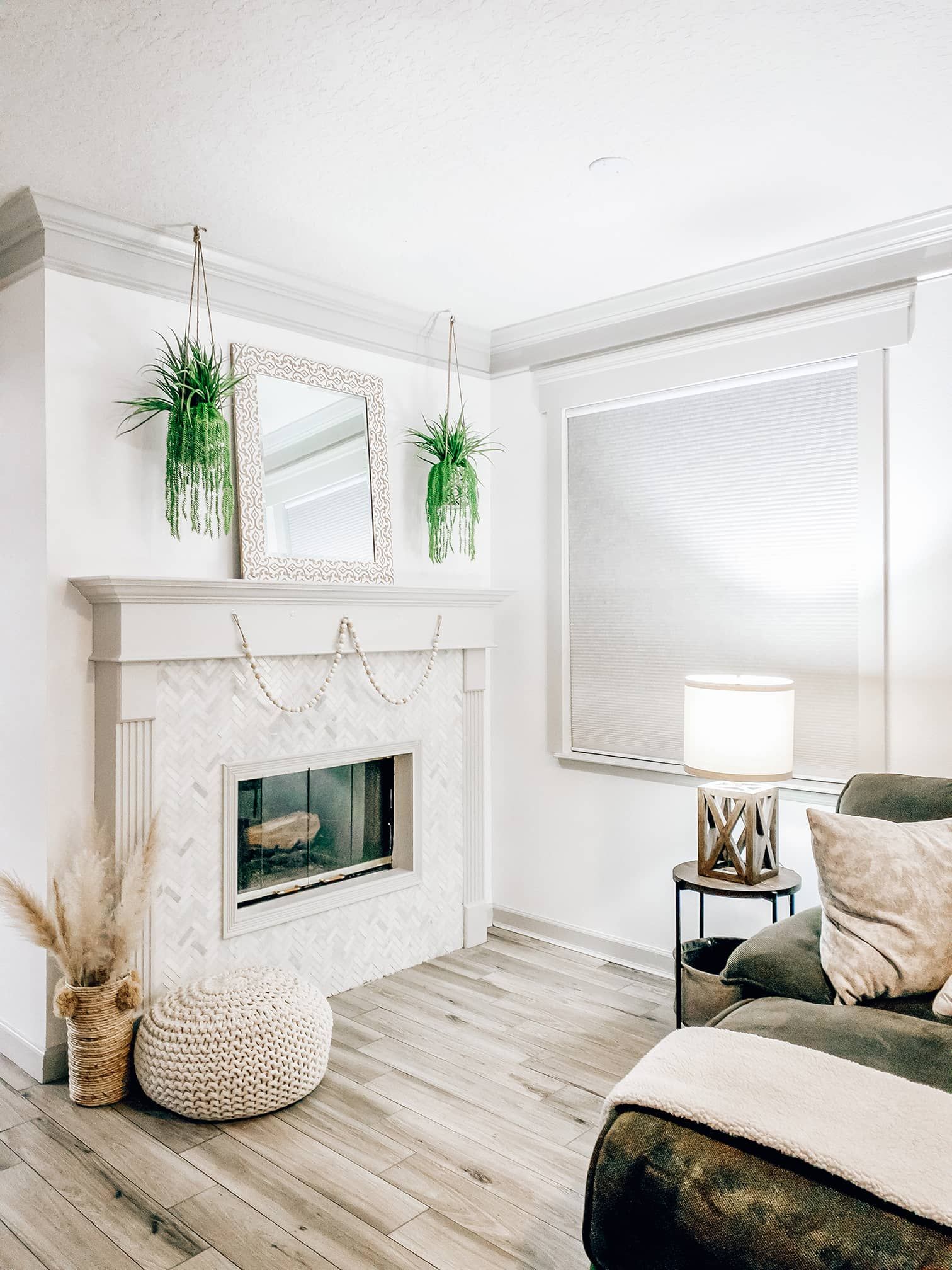 PHOTO COURTESY OF JENNY - FOLLOW ON IG @JENNEBEE
"Our home has a fireplace which is definitely a highlight for many buyers. Not only is it a coveted feature to have but it also helps increase the value of the home. We refaced our fireplace and removed a huge block of bricks that took up valuable living space. We finished it by painting the mantle and the walls around it to make it stand out." - Jenny
The bottom line is that the right upgrades make a huge difference when it comes to your home's appraised value. You don't want to spend money and time on changes that won't move the needle, that's why it's important to take the time to learn exactly what it is that buyers are looking for.
According to HSH.com the top upgrades most likely to catch buyer a attention are energy star-rated appliances, new flooring, a double kitchen sink, and an upgraded laundry room.
It's safe to say that upgrading your kitchen appliances, flooring, and storage spaces are investments that will pay off in the long run.
Now that you know what buyers want, what upgrades don't they want? A big percentage of young buyers are focused on technology and keep up with the current trends. Therefore things such as formal dining rooms and wall to wall carpeting are no longer desirable features in the home. Along with high maintenance landscaping and media rooms.
| REAL LIFE RENO STORY |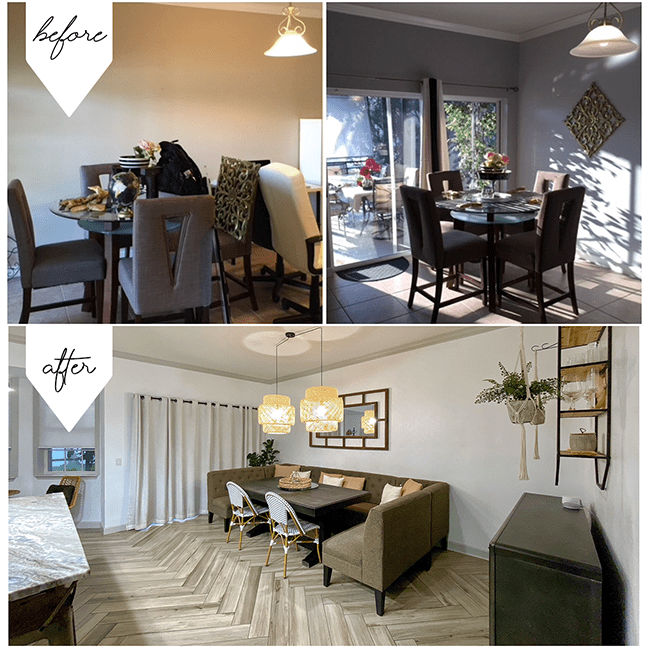 PHOTO COURTESY OF JENNY - FOLLOW ON IG @JENNEBEE
"Initially when we moved in we switched out dark brown and beige paint for cool tones of grey. As we have refreshed the home we have transitioned to a perfect crisp white (Sherwin Williams Snowbound) on the walls and a warm greige (Sherwin Williams Repose Grey) on all the crown molding and trim. We wanted to make sure that we kept in mind what buyers wanted as we transitioned this home to hit the market soon! We also love to host and we wanted to maximize the dining room space with furniture that made it feel like a second living room area. This is also an opportunity to stage our home and although that might not impact the appraisal it will put us in an advantage as we photograph the home and put it on the market." - Jenny
Don't Forget The Bathrooms
When it comes to figuring out where to invest in your home, bathroom improvements are always a smart move. The bathroom is one of the rooms in your home that benefits most from even small renovations that can at times be done for less than $750. A few cost-effective changes like replacing an outdated vanity, old plumbing, lighting fixtures, or adding a new tile floor will help give your bathroom a boost in value. This will also give your bathroom an updated, modern look that buyers are looking for.
An outdated bathroom can typically be remodeled within the parameters of the current space. First, consider the reasonable aspects of remodeling your bathroom. Take care of any foundation issues first before focusing on the cosmetic changes. Plumbing, structural and electrical upgrades can be costly but the good news is that if you find these potential problems now and repair them you will undoubtedly increase the value of your home.